There is power in numbers. An African proverb puts it this way "If you want to go fast, walk alone but if you want to go far, walk with a team". While it's important to work with people as you strive towards your goals, the quality of that team matters. We created Cliq, our new group savings feature on HerVest, leveraging the power of solid collaborations. In fact, utilising the power of community to create wealth is why HerVest exists.
Through a Peer-to-peer model, HerVest links female retail investors looking to create wealth with women farmers and traders who need credit to grow their enterprises. This way, we are building an ecosystem for every woman to thrive.
In this guide, we will discuss:
What is Cliq?
How to set up a Cliq plan
How to join an existing Cliq
What Cliq can be used for
Frequently Asked Questions about Cliq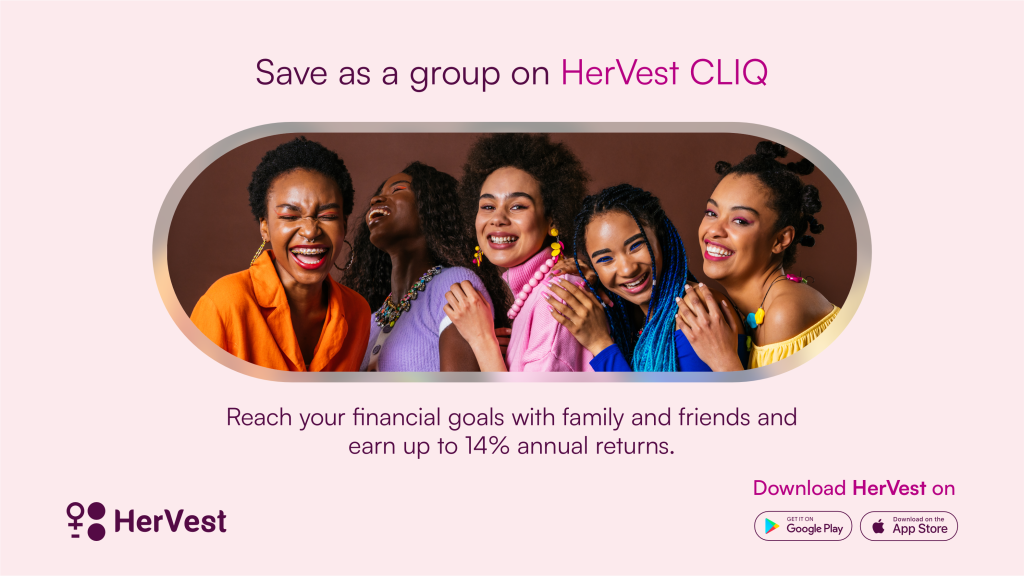 What is HerVest Cliq?
Cliq is a savings feature on the HerVest app that allows a group of people to pool their money together and save towards a common goal. This can be anything from saving for a vacation to saving for retirement. Each Cliq plan allows a maximum of 100 members. The minimum savings duration is 3 months, and the maximum is 1 year. Users can only withdraw their savings on the plan's maturity date.
How to Set up a HerVest Cliq Savings Plan
1. Download or update your HerVest app on https://hervestng.app.link
2. Login to your HerVest account
3. Tap on Start a Savings Plan
4. Tap on Cliq
5. Tap on Create A Cliq
6. Fill in the required details and tap on next.
7. Select a preferred debit card to start your plan
9. You have successfully created a Cliq plan,
10. Tap the share button or copy codes to invite friends to join your Cliq.
How to Join an Existing HerVest Cliq Plan
Tap on Cliq
Tap on Join Cliq
Enter the Admins unique code/referral code.
Select a preferred debit card.
You have successfully joined a Cliq Savings plan.
Who can use HerVest Cliq?
Anyone can use Cliq. The goal is to save towards common goals with family and friends. The following are best-case scenarios but are not limited to these suggestions:
Joint account for couples
Wedding plans with bridesmaids
Group vacations
Alumni associations
Family events
Community events such as August meetings, Meet and greets
Church/Charity events
Friends/Corporate hangouts
Real estate: By pooling money together, members of a Cliq plan can quickly accumulate a large enough sum to cover the huge expense of landed property.
Frequently Asked Questions about HerVest Cliq:
How can I contribute to my Cliq Plan? You can contribute or fund your Cliq plan by setting up recurring payments through the automated debit feature on the HerVest app.
If someone joins my Cliq halfway, when will their savings mature? Will they have the same interest as early members? Maturity is subject to the date set by the creator or administrator.
What if my Cliq does not meet the target amount before maturity? You can withdraw your funds or extend the maturity date to meet your savings goals.
Can I have multiple Cliq plans? Yes. You can set up Multiple plans on goals that are important to you.
What is the maximum number in a Cliq Plan? A Cliq plan only accommodates a maximum of 100 persons.
What if my savings frequency is different from other members on my Cliq? The Cliq plan is flexible, with personalised features that allow members to save according to their preferences. This could be daily, weekly, monthly or whenever you wish.
How do I withdraw money from my Cliq savings plan? Once you've reached your savings goal, you can withdraw the money from the group savings plan. You can do this by clicking the "Withdraw" button on your plan. Your savings will be instantly transferred to your HerVest purse.
How secure is my money on Cliq? Your funds are protected by HerVest app security features. Through encryption and fraud protection, we ensure your money is only accessible to you.
The Cliq savings feature on HerVest is an effective way to build wealth with loved ones. Go ahead and create a Cliq plan today and share in the comments what you'll be saving towards.
For more enquiries, please reach us at Hello@hervest.ng or through the support channel on the HerVest app.